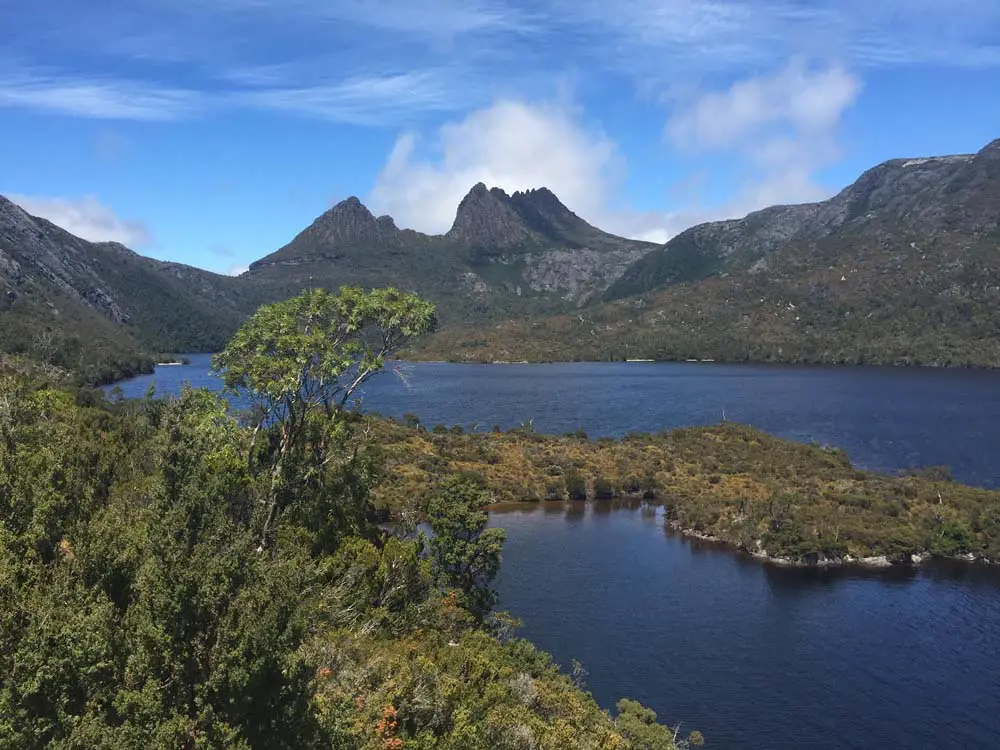 Please note this is not how Cradle Mountain looked when Jacob and I walked the Overland in Easter 2012. The above photo was taken in January 2016.
The overland track, Tasmania (Easter 2012) Update 27/4/2012  How the walk went | My gear post mortem
My next major venture is the Overland Track which I am planning to walk from Easter Sunday, April 2012.  From Brisbane, you can fly direct to Launceston with Jetstar which is very convenient.
Walking the track in Summer (to end April) requires payment of a fee for each walker which you can do on-line at Tasmania Parks.  In the mail about a week later you get a nice parcel which contains a waterproof map, two short guidebooks, and some other material. It's a six-day walk, traveling 65 kilometers from Cradle Mountain to Lake St Clair.
After booking my airfares (traveling with my son) the next step was to find accommodation in Launceston for the night before and after the walk.  Unfortunately, I was not able to get the same hotel for both nights so this gave me the added problem of having to sort out somewhere to store our non-trek luggage.
The biggest challenge, so far, has been trying to get to the start of the walk and back to Launceston from Lake St Clair.  Worst case – this is going to cost $650 round trip for two which is more than the airfares from Brisbane.
Gear preparation.
My walks in Queensland have not really prepared me gear-wise for Tasmania, where it is recommended that you take 4 season gear as it can snow in the middle of summer.
I needed to buy the following items:
Down sleeping bags.  At the time of writing, I still have not committed but am tossing up the Mont Nadgee or Macpac Latitude XP which happens to be on sale for 1/2 price pre Christmas. These are not ultralight bags and weigh more than a kilo.  The extra weight is due to the wider foot room and full-length zippers.
Gaiters
Better boots – still to decide.  My current Kathmandu eVent mid-cut running shoe style is not what I consider I'll need for an extended walk.
Water filter bottle
Better rain gear. For my son, I picked up a Goretex Paclite – Mountain Hardwear Typhoon on eBay for $101 and after considerable umming and aahing I decided that my non-breathable raincoat needed replacing so I got a Rab Latok eVent jacket for $167 also on eBay – an unwanted gift became a bargain for me.  I have seen these in the shops at $529.
Waterproof pants are also on the list.
Drysacs
Waterproof pack covers
I got a new pack for my son – a Kathmandu Archon v2  65 litres at 1.6 kg /  Jury is still out whether I travel with my 50 litre pack. I'll wait till I have done a dry run with food to see whether the 50 L will be enough.
5/1/2012
Well, the last month has seen a frenzy of gear hunting. I put the Kathmandu pack for sale on eBay. The lesson learned was to try a pack on before buying it.  The Archon was not long enough for my 193 cm son.  For him, we tried on a Macpac Cascade 65, One Planet WBA long and then settled on a Lowe Alpine Appalachian 65-85 which he seemed happy with.  Paid $199 at a close out sale at K2 in the Valley in Brisbane. This pack weighs in at about 2.4 Kg including a rain cover.
I settled on a One Planet WBA medium 60 litre pack.  The pack I wanted most was the Macpac Cascade 50 litre which had all the features I wanted but at 2.7 Kg I felt was more than I wanted to carry. I also tried on with weight (15 kg) Osprey Kestrel 58, Osprey Exos 58, Aarn Natural Balance.  I loved the idea of the lightweight but in the end, felt the comfort of the One Planet harness was worth an extra kilo – I found it to be so much better. Let's see how I feel about it after the walk.
Sleeping bags – I had every intention of settling on a Western Mountaineering Sycamore long bag at under a kilo and lots of legroom but in the end, could not pass up two Mountain Hardwear Sprite SL water resistant 0 deg bag with 800 loft down.  I chose the long bags as they had better width across the body as well as more space in the feet section. The clincher was the $180 price reduced from an RRP of $629 – a great deal at the Mountain Designs Direct Factory Outlet at Brisbane Airport.
Gear list that I took  on the Overland Track for Easter 2012
I have included costs and sources of gear to give an idea of the savings some patience and research can provide.  There is no way I could have contemplated some of the items below at full retail – especially the tent, sleeping bag, and rain jacket.
Pack
One Planet WBA medium 60 Litre pack (Kiwi Outdoors New Zealand on line $326) modified with the addition of a Mungo bungee cord kit direct from One Planet $10. 2 Kg
Kathmandu pack cover
Sea to Summit Ultrasil day pack for side walks (Paddy Pallin Brisbane Dec 2011)
Sleeping
Mountain Hardwear Spirit SL 32 water resistant 0 deg bag with 800 loft down ($180 Mountain Designs disposal store Brisbane Airport Dec 2011) 1.2 Kg inc waterresistant compression sack
Kathmandu regular size silk liner ($60 ish Kathmandu Christmas sale 2010) 91g
Thermarest Neo Trekker mat ($170 Globetrekker Brisbane Dec 2011) 570g
Exped Air Pillow Large ($34 Mainpeak on line) 100g
Big Agnes Seedhouse SL2  1.6 Kg (my son carried this)
Cooking/Eating
Macpac 900 ml Titanium Pot with lid ($62.95 Macpac post Christmas sale Jan 2012) plus Kathmandu kettle which my son carried.
Kovea titanium ultralite gas stove (ebay 2010 – about $60) 88g
230 g gas bottle (and a 100g can spare which my son carried)
GSI plastic bowl 38g
Cheap plastic fork and two spoons (one to stir my coffee while I am eating my cereal)
Gerber 06050 folding knife
Water bottle with filter 107g
Kathmandu 1 Litre ultralite folding soft side water bottle ($14.95 Christmas sale 2011) 28g
DMH stainless insulated mug 77g
Clothing (spare clothes packed inside Kathmandu dry sack) 134g
Asolo Fugitive GTX boots ($114 K2 disposal store Brisbane) – I never got these to be comfortable so replaced them with a pair of Keen Thargee mid shoes.
Outdoor Research Crocodile Goretex Alpin Gaiters ($63.50 new on eBay) 285g
RAB Latok Event water proof jacket ($167 new unwanted gift eBay) 477g
Columbia waterproof over trousers (around $45 Mountain Designs disposal store Brisbane Airport) 424g
2 * Polyester trousers with zip off lower legs (one on 601g – one packed 349g)
2 * Polyester long sleeve shirts (one on 278g – one packed 389g)
3 * underpants (one on – two packed)
4 pair socks (one on – three packed – around 90g each pair)
Thermal underwear one short sleeve, one long sleeve tops. One long johns.
One lightweight fleece Columbia brand ($45 Columbia store Brisbane Christmas sale)
Lowe Alpine beanie with in built face cover ($15 K2 Disposal store Brisbane)
Light weight merino beanie ($10 Kathmandu 2006)
Macpac Legionnaire hat (I was advised to take a cap type hat in case of wet weather – stop rain falling in your face from your rain gear) 75g
Light insulated gloves (Timberland brand – picked these up in New York a few years back as wool lined leather gloves were not cutting it for me just before Christmas. 179g
Macpac neck wrap
Macpac Twilight Down Jacket – about 400g
Accessories
Patch kit (for mattress, pillow, tent)
Buck Mini folding knife (Dull Knife Terminator USA $15 shipped – I ordered 3 for $45 and gave my sons one each) 28g
Black Diamond Ultra distance Z poles (hiking poles) ($162 Macpac Brisbane Jan 2012) 268g
Dry sacks – one for clothes, one for first aid/toiletries
Luxury
Camp Specialties Mini Hiking Stool (around $30 shipped from the manufacturer in USA 2010) 285g
Nikon Coolpix S8100 10x Zoom with spare battery and Lowepro soft case 273g
Hygiene/safety
Coghlans Trowell 48g
Coghlans toilet paper (2 packs per person  not sure what to expect) 2 by 30g
Toothbrush + toothpaste + toothpicks + 6 strips of dental floss
Small Polyester towel
First aid kit comprising variety of bandaids, blister strips, paracetemol, couple of antibiotics, Celebrex, aspirin, small compression bandage
Lip balm
Sunscreen, talc powder and insect repellant in small Nalgene bottles from Paddy Pallin Brisbane.
Map of area provided by national parks in their mail out.
Fairydown mini compass from Macpac Brisbane 28g
Chux Superwipe 8g
Food
Breakfast – various cereals from home packed separately in small plastic bags. Also took powdered milk in plastic bag.
Lunch  – instant noodles, crackers and processed cheddar, Vegemite, peanut butter.
Dinner will comprise freeze dried meals with one single meal pack extra between the two of us in case of emergency.  Two freeze dried desserts (strawberry ice cream and apple cobbler) will also be packed as a luxury
Snacks – cheese, Apples, chocolate, almonds, dried dates.
Drinks – tea, Cappuccino coffee sachets.
Packed crushable items in plastic ice cream containers.