Day 16 Sunday Lisbon to Merida
Today we had our basic in room breakfast of toast with honey, fresh orange and English breakfast tea before loading up and heading to the car and setting off back over the Vasco da Gama bridge.
Paid 74 Euro for the three day carpark stay and then started our drive to Merida, just under half way mark to Madrid.
Stopped at a gas station on the way out of Lisbon and had no clue about how to operate the pre pay system. I walked into the station where a very patient attendant told me she would start the pump for me and then I could pay.
We decided to travel the B roads to avoid the Portuguese toll road debacle. This meant travelling a lot slower but we got to see a beautiful green countryside, some small towns and a bunch of fortifications on hilltops.
About an hour and a half short of Merida, we pulled off the road to visit Estremoz,a small town for a break and had a custard tart and coffee before hitting the road for our second last leg in the hire car.
We arrived at Merida just after 1 pm and pulled up at our hotel the Ilunion Merida Hotel which is very nice indeed. As usual we had a view of of a church from our window, this time one with a stork nest. These were becoming a very comforting feature.
Parking was not as expected with a valet service only so we gladly handed the keys to the attendant.
Our reason for choosing Merida was related to the fact they have a Roman theatre but we were surprised to find much more here.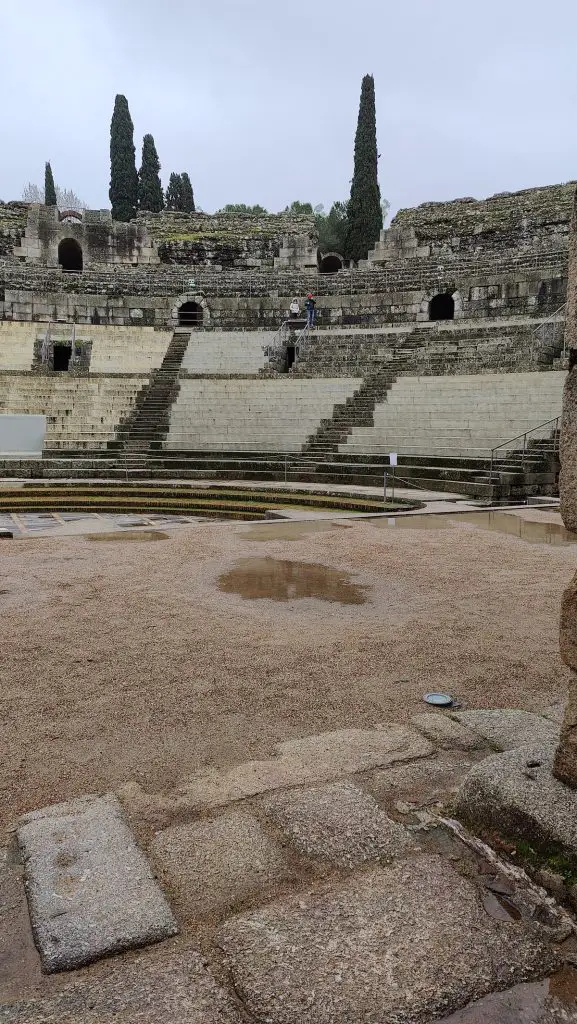 As well as a small stadium and a very nice theatre they have many other remnants of Roman life and also a large Moslem  fortress from the 11th century and a long bridge with Roman foundations.
What a find.
If you are looking to break up a drive between Lisbon and Madrid including a stop over I definitely recommend Merida.
The old city centre is very nice with lots of food options and once you are parked you can reach the archeological sites by walking.
Old church
Steps – 11,762