Sleeping bags can be heavy and bulky.  The models below are less than one kilo and are ideally suited to thru-hiking or lightweight cycle travelling.
See also sleeping pads and pillows.
You may see a range of temperatures for a bag.  The general approach seems to be as follows:
Comfort Temp: Rating based on a 'standard' adult woman having a comfortable night's sleep.
Lower Limit Temp: Based on the lowest temperature at which a 'standard' adult man is deemed to be able to have a comfortable night's sleep.
Extreme Temp:   A survival only rating for a 'standard' adult woman. This is an extreme survival rating only and it is not advisable to rely on this rating for general use.
Additional thermal clothing should be worn if being exposed to temperatures in this range.
There are a number of things to consider when looking for a lightweight sleeping bag.  There are many articles around on the down vs synthetic debate.  I'll leave these for you to find.
Temperature range
The conundrum for choosing a sleeping back is the target temperature range.  If money is no object then you can have a range of bags for different seasons.  If you want one bag to cover year round needs then get the lightest bag you can and choose a zip round model so that in warmer weather you can use it as a blanket.  I use an inexpensive 10 deg c bag which is very compact and weighs 700g for most requirements around where I live.
Waterproofing
If you are looking at wet weather a waterproof outer cover may be an advantage.  These may add cost but may stop a wet foot when you reach out and touch the tent condensation during the night.
Space
To make a bag lighter most ultralight bags use a mummy style and can be very restrictive. For additional comfort, you may be better off in a wider and therefore heavier bag.
For a cold-weather bag I was deciding between the Macpac Latitude 500 XP (1.1 Kg) or Mont Nadgee (1.2 Kg), and Western Mountaineering Sycamore (my dream bag but very expensive in Australia) but ended up getting a Mountain Hardwear Spirit SL long bag s for $180 at Mountain Designs surplus store at DFO, Hendra in Brisbane.  These are mummy-style bags but the larger size has a bit more wriggle room.  With 800 loft down and a waterproof shell and weighing 2 lb 4 ounces (just over 1 kg) I think this was a pretty good deal.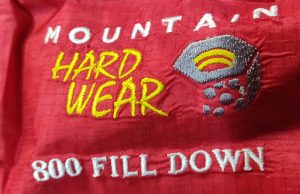 My review of the Mountain Hardwear Spirit SL is based on my first experience with the bag when I used it on the Overland Track at Easter.  On that trip we had snow one night but was above zero for most of the trip.  I had the extra long bag and maybe could have got away with the shorter unit.  I thought it had great bang for buck and it packed pretty small.  More importantly I figured with a Kathmandu silk liner which promises to add another 5 degrees I think the bag will cover anything Australia can dish up.
Mild (>5C )
Min temp (Celcius)
Blackwolf Micron 50
12 deg
915 grams
Caribee Plasma LITE Compact Hooded Sleeping Bag
7 deg
1000 grams
High Rock Ultra Light series Hummingbird FT13131
7 deg
Inner Size : 203 x 80cm
Filler: 90/10 Goose Down FP800, 300G
Shell & Lining: Nylon, 20D x 20D ultra-light high density
Comfortable Temperature: +7℃-+3℃
Extreme Temperature: +25℃-0℃
Total Weight : 0.70kgs
Lafuma One Kilo
9 deg
"comfort" rating of 48F. Mid-rating of 37F, Extreme rating is 23F Review
Marmot Hydrogen
0.9 °C
Comfort Rating: 0.9 °C
Snowys Comfort Rating: 0.9 °C
Lower Limit:-4.8 °C
Shape:Mummy
Max. User Height:183 cm | 6′
Internal Girth:160cm Shoulder | 147cm Hip | 94cm Foot
External Dimensions:214L x 73W cm
Packed Dimensions:30L x 15W cm
Material: Pertex 20D Nylon R/S
Fill Material:RDS 800+ Fill Power Goose Down
Fill Weight:390 g
Lining:30D Nylon DWR
Zip Draft Tube:Yes
Zipper:YKK | Left Full Zip Dual Slider
Weight:0.655 Kg
Mont Zero Ultralite Down
13-7 C
Zero UL Weight: 300g
Down Fill Weight: 138g
Down Fill Type: 825-850 loft 95/5 Premium White Down with water resistant DWR Loft treatment
Stuff Sack Weight: 12g
Maximum user height: 185cm
Maximum user shoulder circumference: 160cm
Packed Size: 90x230mm
Mountain Hardwear Phantom 45 Down Sleeping Bag
Summer
Weight: 15 oz (short); 1 lb 1 oz (reg); 1 lb 3 oz (long)
Nemo Siren
45F / 7C
Capacity 1
Minimum Weight 1 lb , 5 oz / 600 g
Packed Size 14.0 x 5.5 in dia / 35 x 14 cm dia
Temp Rating
Fill Weight 0 lb , 10 oz / 285 g
Fits Up To 6′ / 183 cm
Shoulder Girth 53 in / 135 cm
Hip Girth 48 in / 122 cm
Knee Girth 39 in / 99 cm
Compressed Volume 2.16
Sea to Summit Spark SpI – Ultra Dry Down
9 deg
Regular: for people up to 183 cm / 6′
Long: for people up to 198 cm / 6'6″
Fill weight: Reg – 180g / Long – 205g
Cool (0-5)
Min temp (Celcius)
Cumulus XLite 200
3 deg
350g  Extremely light bag for extreme minimalist. X-lite 200 is made of Pertex Quantum, probably the lightest downproof fabric available
High Rock Discovery Series, Water Meadow DC13203
3 deg
Inner Size : 193 x 75cm, Filler : 80/20 Eiderdown FP600, 370G
Shell : Polyester 40Dx40D, Lining : Polyester Taffeta
Comfortable Temperature : +3℃-0℃
Extreme Temperature : +20℃--3℃
Total Weight : 0.85kgs
Macpac Express 400

Fast and light series

2 deg comfort
Size Standard
Weight 0.78kg
Fill weight 400gms
Fill power 800+ Loft
Temp rating Comfort 2ºC / Limit -4ºC / Extreme -21ºC
Marmot Hydrogen
1 deg
Lower Limit:-4.8 °C
Shape:Mummy
Max. User Height:183 cm | 6′
Internal Girth:160cm Shoulder | 147cm Hip | 94cm Foot
External Dimensions:214L x 73W cm
Packed Dimensions:30L x 15W cm
Material: Pertex 20D Nylon R/S
Fill Material:RDS 800+ Fill Power Goose Down
Fill Weight:390 g
Weight:0.655 Kg
Mont Zero SL
Men 2C
W 2C
Standard size weight275g fill, 427g total
Packed size*14x28cm
Down rating825-850 loft premium white duck down
Down treatmentWater resistant DWR Loft treatment
Zip sideLeft
Zip configurationUltralight 1/4 length side zip
Mountain Hardwear
UltraLamina 32
0 deg
Reg: 1 lb 15 oz 880g
Long: 2 lb 2 oz 965g
Sir Joseph Koteka 290
0 deg
200cm version 550 g = this is a world class weight
Comfort: 7 °C | Comfort-Limit: 3 °C | Extrem: -10 °C
Vango Ultralite 200
5 deg
925 g
Western Mountaineering Highlite
2 deg
Weighs less than 500g
Temperature Rating: +2ºC
Shell: ExtremeLite™
Insulation: 225g, 850+ loft down
Freezing (below zero)
Min temp (Celcius)
Big Agnes Sarvis SL 20
-7 deg
Reg:  1050 g
Cumulus Panyam 600
-14 deg
970g CUMULUS Panyam-600, Made of Pertex Quantum. Comfort temperature of -14°C makes it suitable for winter activities
EPE Scott 200 Down Fill
-5 deg
Dimensions: 235 x 80 x 60 cm
Total Weight: 950 grams
GoLite
Ultralite 3-Season Quilt
-7 deg
1 lb 9 oz 709g
Integral Designs
Cocoon Primaloft
-1 deg
Reg: 2 lb. 2 oz 965g
Macpac Epic HyperDRY™ Down 400 Sleeping Bag
-1 deg comfort
Fill Power (cuin) 800
Fill Weight (g) 400
Dimensions HxWxD (cm) 36 x 18 (packed dimensions — subject to variability of compression)
Weight (g) 810
Marmot Hydrogen
-1 deg
Reg: 1 lbs. 8 oz. 680g
Marmot Helium
-9 deg
Reg: 2 lb 2 oz 965g
MontBell
U.L. Super Spiral Down Hugger #3
-1 deg
Weight: 1 lb 5 oz 595g
Mountain Designs Ultra series
-7 to 3
-3 to 7
Ultra 500 989 g (Down sleeping bags)
Ultra 300 791 g
North Face Kilo Bag
-1 deg
995g
One Planet Stowaway -3
-3 deg
Reg: 0.7 kg This is my dream bag  for Australian conditions
Lrg: 0.79 kg
One Planet Cocoon 500
-5 deg
Reg: 0.84 kg
Lrg: 0.94
Sea to Summit SP3
Reg 0.625 kg
Lrg: 0.69
They have a range for milder temps also – a very minimalist bag.
Tundra Pure and Dry -5
– 5 deg
Weight 950 g (inc stuff sack) [Source: Bushwalk.com ]
Valandre Lafayette
-10 deg
Total weight: 1000 gm (2lb 3 oz)
Comfort rating: -10°C (14°F)
Extreme rating: -15°C (5°F)
Vango  Venom 150 DOWN Micro Compact 
-7 deg
575g (bag only) 640 g with compression sack.
Vango Venom 225 DOWN Micro Compact
-10 deg
740g
One of the most compact -10c down bags available on the market
Vango Venom 300 DOWN Micro Compact
-12 deg
Total Weight: 880g (sleeping bag only 810g)
Western Mountaineering Ultralite
-7 deg
180 cm = 880 gm
200 cm = 935 gms
Western Mountaineering Versalite
-12 deg
180 cm = 905 gm
200 cm = 960 gm