Europe 2023 part 2
Day 10 Monday 2 January 2023
Last day in Morocco
Today we departed Chefchaouen at 7 am bound for the ferry terminal at Tangier Med Port to the west of Tangier city to get a ride to  Ageciras where we had a hire car waiting. Our driver drove us to the bus terminal which is a bit disconcerting as you need to leave the vehicle and then wander through the gates to the departure gate which was not well signed. Our baggage went through a security scanner and we then walked to the African Moroccan Line (AML Counter) to purchase tickets on the 1030 am departure. We had to show our passports to get the tickets which cost around 35 Euro each.
From ticket purchase we then went through baggage scanning again in the customs area and then through passport control where our passports were stamped on exit.
We then took the lift down to the waiting area for the bus to take us to our ferry.
When it was time our tickets were scanned before boarding the bus.
On the way into the vehicle gate the bus was checked by police  to see the number passengers matched their count. We were the only passengers on our bus which then delivered us to the back of the boat where the vehicles were loading.
Again we showed our tickets to a crew member who tour off his part. We then presented to a policeman who checked our passport again.
We walked up the vehicle loading ramp and were shown to a very small elevator which took us and baggage to level 7 where we would sit for the trip.
We sat in the forward bar area which had comfortable seating and kept our bags with us. It was a nice day with only light cloud and the sea was calm for a pleasant voyage.
The loading took longer than expected and we departed a bit after 11 am for a scheduled 90 minute passage.
The weather was more overcast threatening rain as we approached the Spanish coast.
One more passport check and bag xray at Algeciras port and we then made our way to the Budget care depot which was closed for a bank holiday but had taken our booking with no advice about this.
A very kind chef from the restaurant nearby called the after hours number for me and I was able to speak to the Budget rep who said he would come to meet us in an hour.
While we waited we had lunch in the restaurant that had rescued us and had a very nice Moroccan style meal with BVQ chicken.
He arrived about an hour and a half later and we had some wheels – a Seat Arona SUV.
It had been more than 10 years since I last drove a left had drive vehicle but got the hang of it pretty quickly.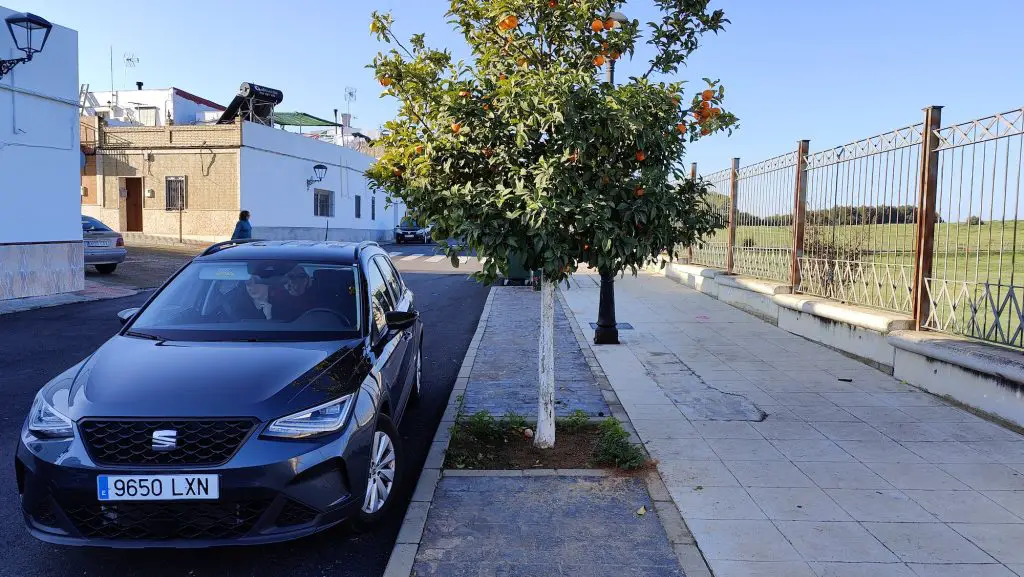 Our original plan was to travel to Seville via Ronda but we had lost so much time with delayed ferry departure and waiting for the car that this was no longer an option hoping to arrive in Seville before dark.
The trip from Akgaciras to Seville went without a hitch with our Budget provided mobile phone/ hotspot to support our navigation.
However, when we arrived in Seville getting to our accommodation in the old town was a challenge. Unbenowns to us it was in the centre of the old town and police were stopping cars from accessing that area. We tried to find a back way before eventually telling the police we had to go down that road. That was a mistake – driving in their is a nightmare and we could not park as indicated by the hotel.
Less if you have a hire care never stay in old town Seville!
We ended up parking 1km away from hotel as closest park was full.
Anyway the room was beautiful, with a separate bed room and bathroom for our daughter.
After we settled in we went out to find dinner in the old town but struggled to find food we could understand so we went to a Carrefours mini grocery and purchased ham, cheese, tomato, bread, eggs, bacon and other stuff. We had toasted HCT sandwiches for dinner and looked forward to making our own breakfast the following day.
The hotel had lots of TV stations and we were able to find BBC stations for some English language.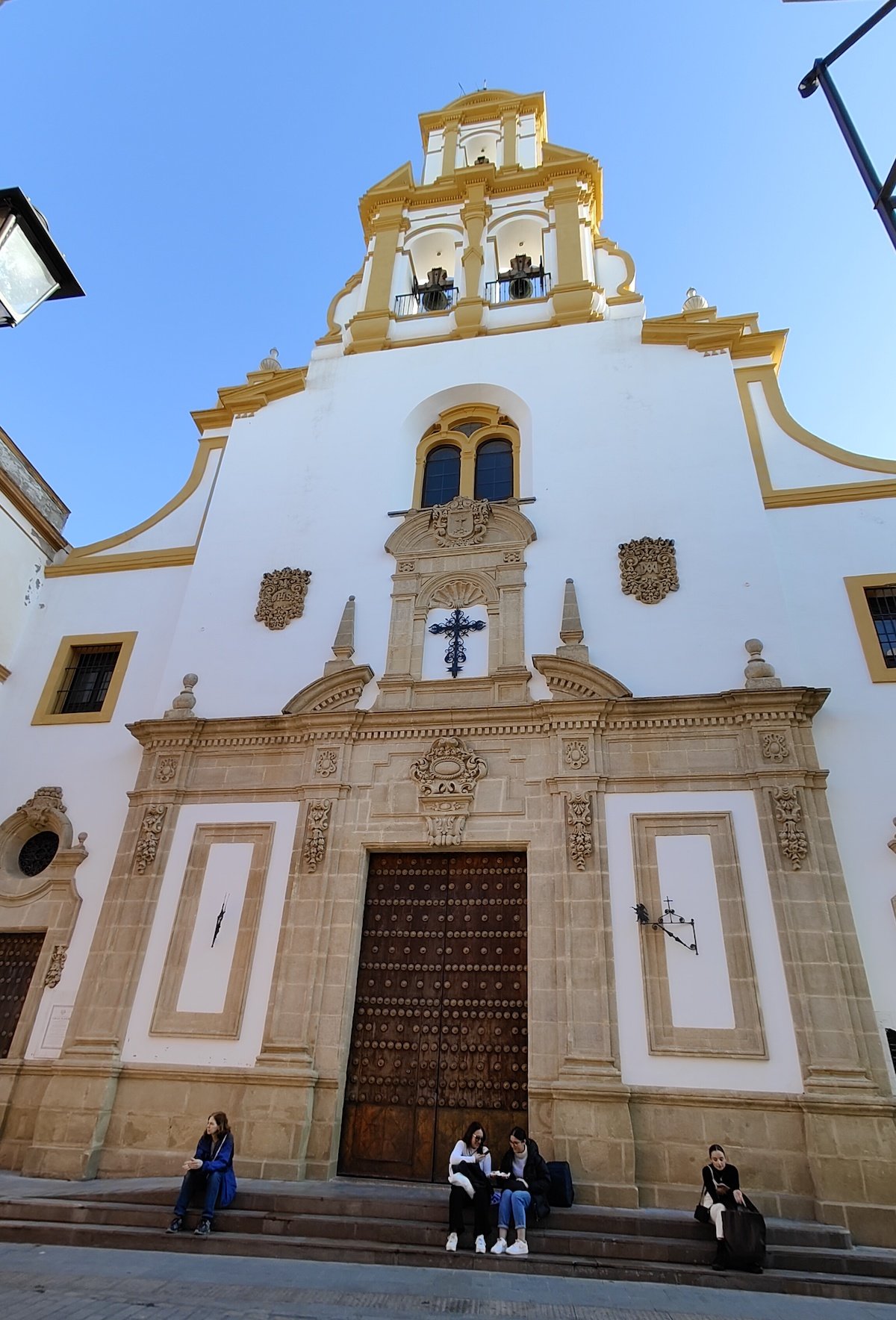 10,048 steps
Day 11 Tuesday 3 January 2023 Seville
Today we decided to stay in the old town,
Cooked bacon, eggs and tomato for breakfast and then we walked.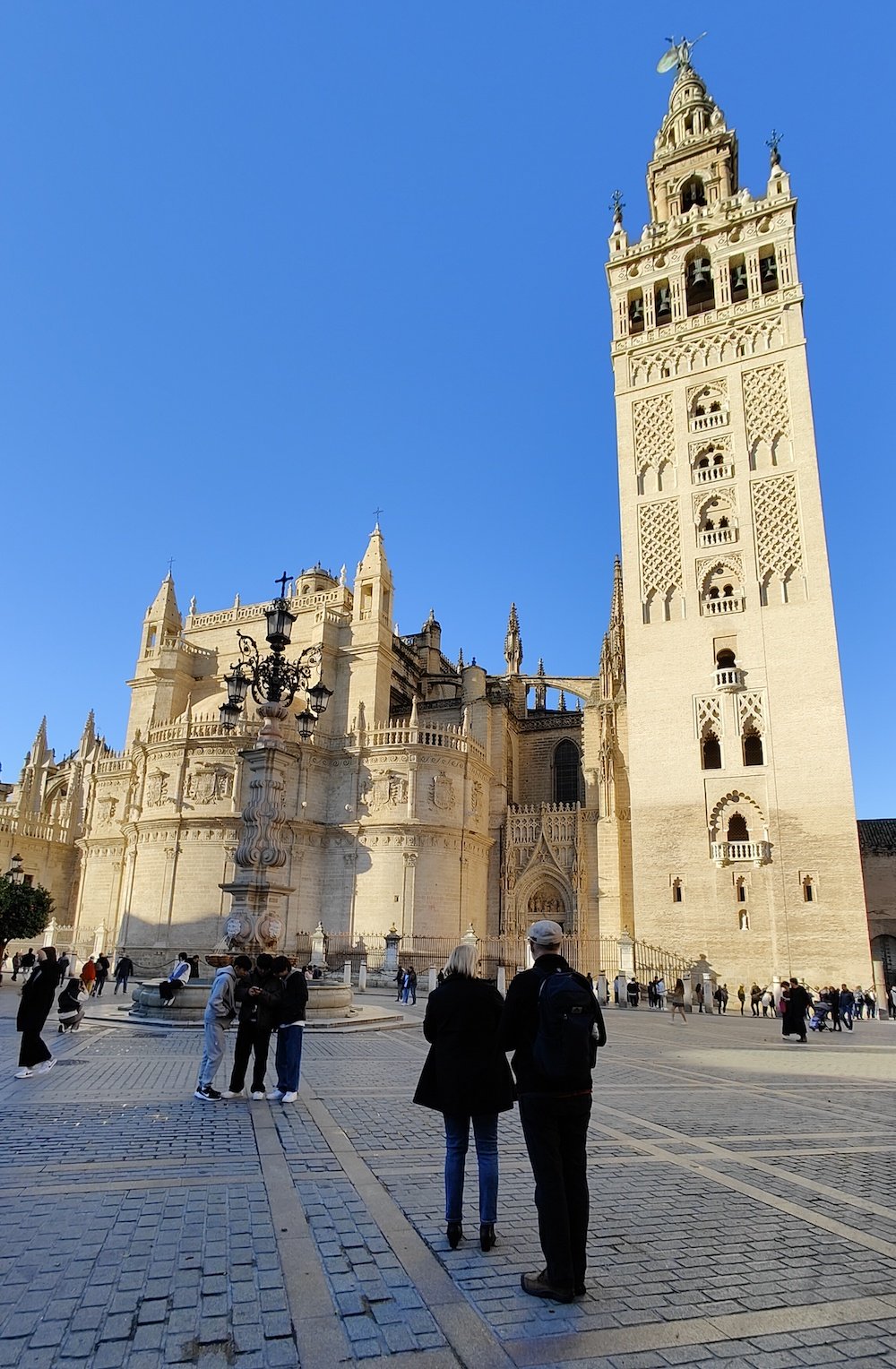 After lunch, we went to the old bill fighting ring – Plaza de toros de la Real Maestranza de Caballería de Sevilla
Following that we walked to the museum of fine art and saw a large range devotional paintings and my favourites some more modern paintings from the late 19th and early 20th century.
After this we did some browsing in a department store and then made our way back to the canal.
Well the conclusion at the end of our first day in Spain is that I love Seville. It really is a beautiful city. The people are nice, it is clean. We have been preparing our own meals.
16,354 steps
Day 12 Seville Wednesday
Today a quick start with some almond croissants purchased the night before. A bit after 9 we walked back to our car at San Bernardi public car park. We paid 38 Euro for the day and a half it had been there and set off to find Italica, the local Roman ruins comprising houses, amphitheatre and stadium. It was difficult to isolate the location using the car's onboard navigation or Google maps. We got to the neighbourhood which could really do with some better signage. Like a number of others we mistakenly went up a driveway to a white building where a man knew we were looking for Italica and pointed for us to keep going left from his driveway. A bit further down the road I asked a lady who said to keep driving to the gasoline station and sure enough the Italica petrol station is the most prominent landmark to let you know you have arrived at the main display including the stadium. The amphitheatre is nearby and you can walk around the outside without being able to enter. This site is being conserved.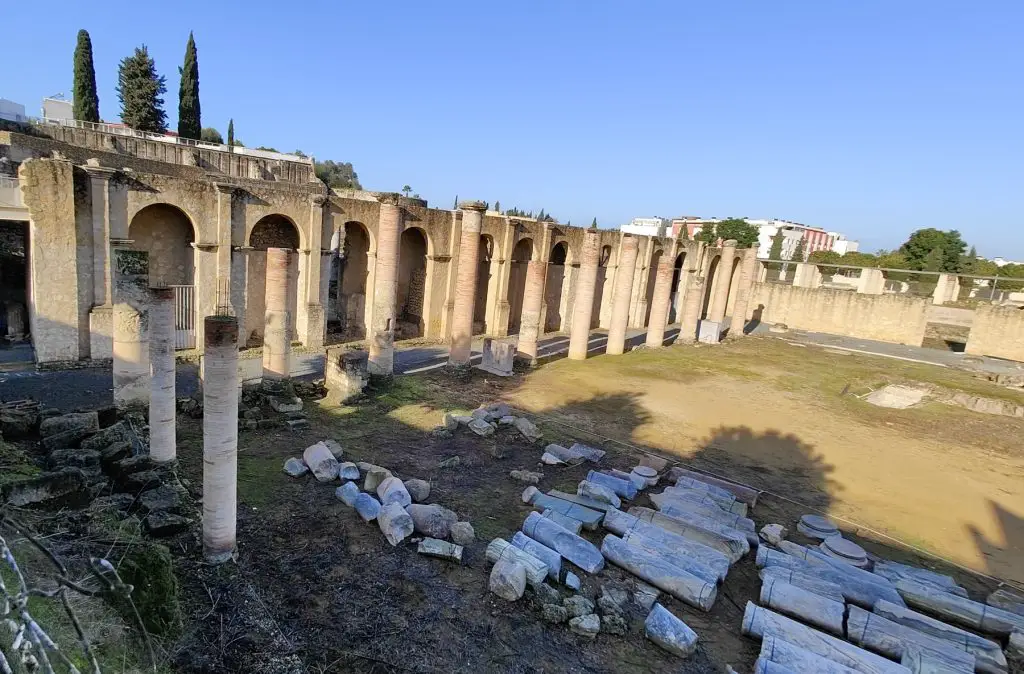 The main Italica site was free to enter and there is a video presentation and some historical information in the building near the entry. This also has clean public toilets.
There are guides available out the front or you can easily find your way around with good signage. Most impressive from my perspective were the floor moasaics including one room comprising colourful birds.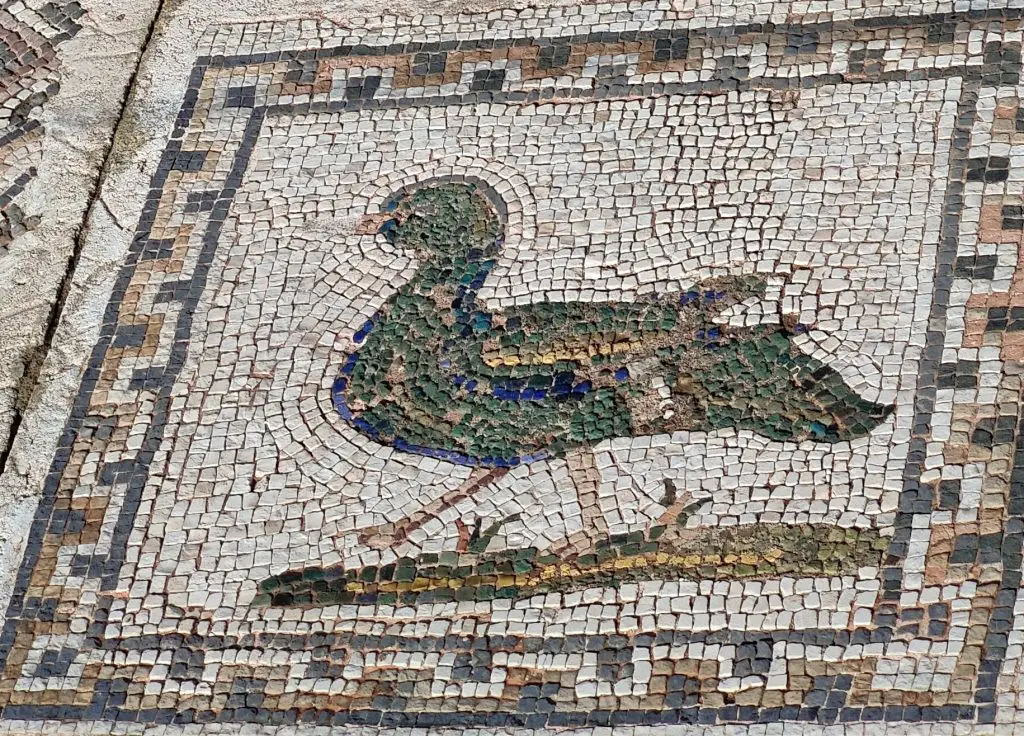 We took the opportunity to refill the tank at the Italica service station where I was amazed to have an attendant fill my tank. I had not had this service since 2007 in Italy.
Back to Seville we hoped to park closer to our accommodation but it was again closed so we went back to San Bernardo car park which is more than 15 minutes away. Then spent the rest of the day wandering beside the canal and took a boat ride.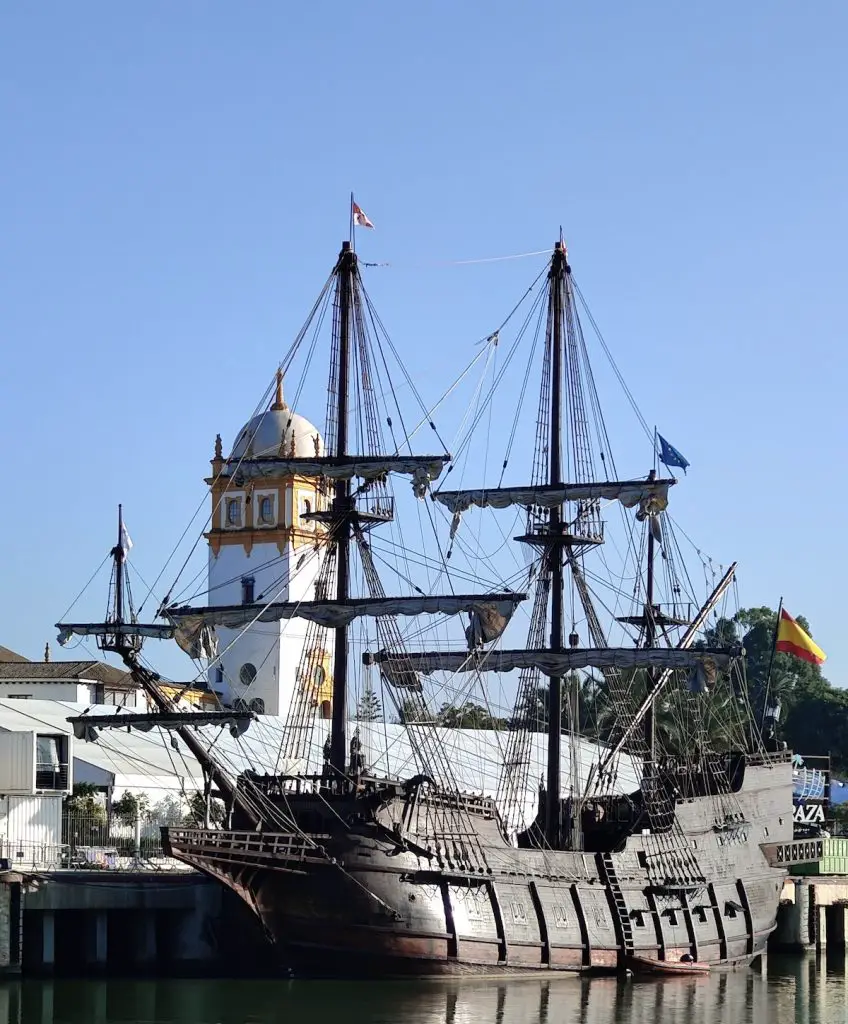 On our walk back to the unit we stocked up on more food at Carrefours. We did not eat out at all while in Seville, preparing all our own meals or takeaway pastries for breakfast.
Steps 17,081
Next leg from Seville to Lisbon