Airlines are making it tougher on weight restrictions. It is frustrating to arrive at the gate and then be required to check in your cabin bags. Here are some cabin bags that weigh less than 2 Kg.
A lot of wheeled cabin cases do not make this cut especially spinners with 4 wheels. I fly a lot domestically and personally find the spinner a very  space inefficient design. But most people love them.
Of course, if you want a really light option you can buy a satchel that weighs less than a kilo. You have to carry these though and when you spend a lot of time walking between a car park and a terminal – that requires a young back.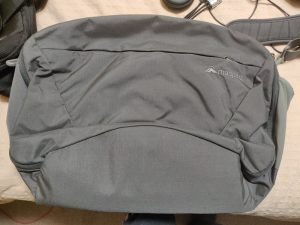 My dream travel bag for a light weight air adventure is the Tom Binh Aeronaut pictured in below.
I have never seen one in the flesh but the reviews are pretty  positive.
I have a bias for products made in the USA (starting with guitars and amplifiers).
I have a cheaper version of the Tom Binh by Macpac – a 40 litre bag with hideaway shoulder straps.
American Tourister Herolite
55cm Cabin Suitcase – 1.6 kg
Osprey Transporter 40
Specifications 53 x 31 x 27 cm, 40 litres, 1.2 kg
Height x Width 35×56
Macpac ITOL 35L Travel Duffel
Main Fabric NP 245'600D BK Cordura

Volume 35L
Weighs 0.91kg

Tom Binh Aeronaut
Dimensions: 21.9″ (w) x 14″ (h) x 9.1″ (d) / 555 (w) x 355 (h) x 230 (d) mm
Weight:
1050d high tenacity ballistic nylon: 3 lb 1 oz / 1395 grams
525d high tenacity ballistic nylon: 2 lb 15 oz / 1340 grams
400d Halcyon®/420d nylon ripstop: 2 lb 7 oz / 1095 grams
Volume:
2700 cubic in / 45 liters (ASTM Standard Measure)
Belroy Transit Backpack Plus
Capacity -38L
Weight 1.5kg
Dimensions 550 x 330 x 240 mm
Samsonite Short Lite 55 cm
Dimensions 36 x 55 x 23 cm
Weight 1.6 kg
Capacity 41L
Material 70 x 160 denier nylon
Warranty Limited 5 year global warrantyThanks to London Luggage for passing on the info on this awesome light weight cabin bag March 2014.
Overboard 40 L Waterproof Duffel
100% waterproof duffel bag – Class 3: IP66
Weatherproof front zip pocket – Class 2: IP65
Floats safely if dropped in waterWaterproof Duffel Bag – 40 Litres
Height: 24cm / 9.4"
Width: 52cm / 20.4"
Depth: 32cm / 12.5″
Capcity: 2400 cubic inchesWeight: 1kg