On the road north we started to see the high Atlas mountains again with snow caps.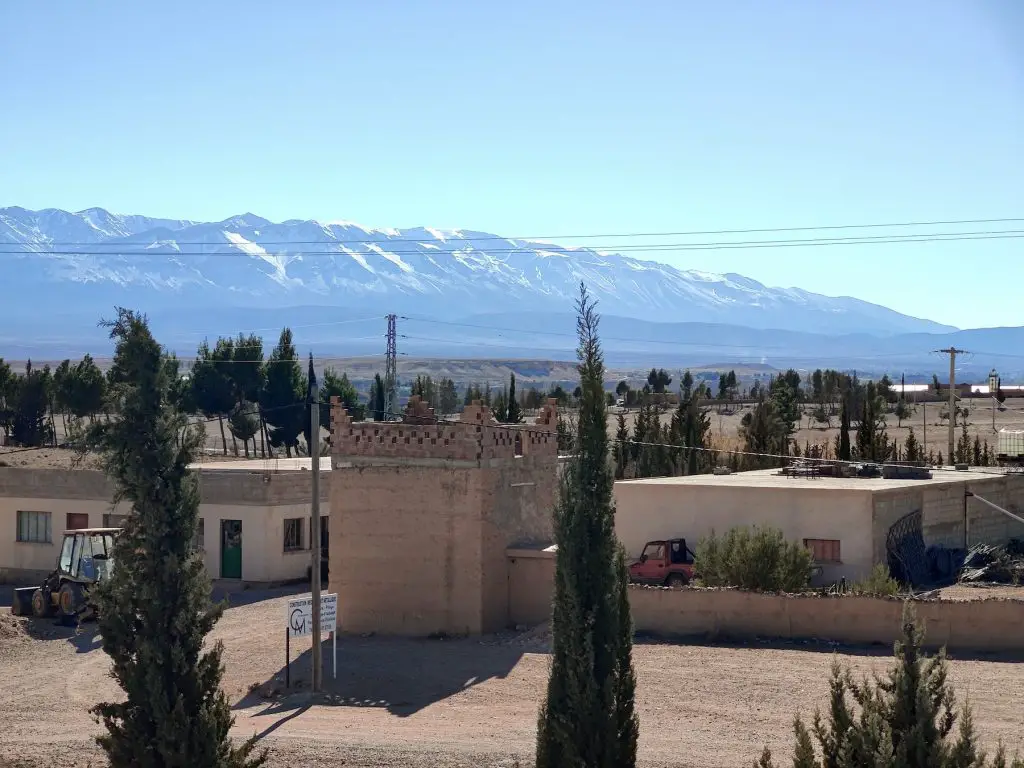 As we approached Fes the landscape changed significantly with grass appearing for the first time since we left Marrakesh. This is an area where there are ski fields approaching Morocco's little Switzerland. We stopped for a while in the town of Ifran.
Big drama when we arrived at Fes old town to stay in our first riad. Our driver dropped us at his closest access point and by the nature of his protracted phone call had a bit of a bad vibe.
Anyway a lovely young man came to carry our luggage to our accommodation and the journey did not put us at ease. After 50 metres or so we were expecting to arrive but no, we walked and walked maybe 2 to 300 metres  with a couple of turns and we certainly lost our bearings. When we arrived at the riad the people were lovely but it was clear our room was not ready and we waited quite a while before I started asking whether everything was ok and feeling that it wasn't.
Anyway we were eventually taken to our room, walking past a fountain which was spraying water in the floor. It is clear that occupational safety laws have not arrived in the country yet and by the time we were in the room I had a gutful and rang our local agent asking her to find a hotel for us to stay. We wanted our driver to be able to collect us at the door and certainly had no desire to be in a medina without a guide. Maybe when I was young but certainly not these days.
The agent needed reassurance that we did not expect a refund and were relieved that she was able to find a room for us at the Palais Faraj only a few minutes from the old town. The only confusion related to whether we would need to pay a fee to attend new years eve dinner she discovered that yes it was mandatory so another 1759 Dirham per person was going to be added to the bill.
As we had not really planned to do anything special for new years eve these has been a nice bonus to look forward to.
6,660 steps
Day eight 31 December 2022
Fes. Pick up time with our medina tour guide 10.00 am
Today for a change we had a female tour guide and started the tour driving to the royal palace and then to the southern of the two forts which were built to protect the Medina in more modern times.
We were then taken to a pottery where we saw the process for making the clay and ceramic objects from the original grey clay provided to the artisans without cost. We got to see some hand moulding and turning, how the mosaic tiles are broken into pieces and shapes, painting and so on. Surprisingly I found this to be one of the highlights of the trip and really enjoyed this part of the tour. We purchased some gifts at the end.
We were then dropped off in the Medina where we saw demonstrations of metal engraving, scarf making and also an explanation of the process while looking down on the world famous Fes Tannery.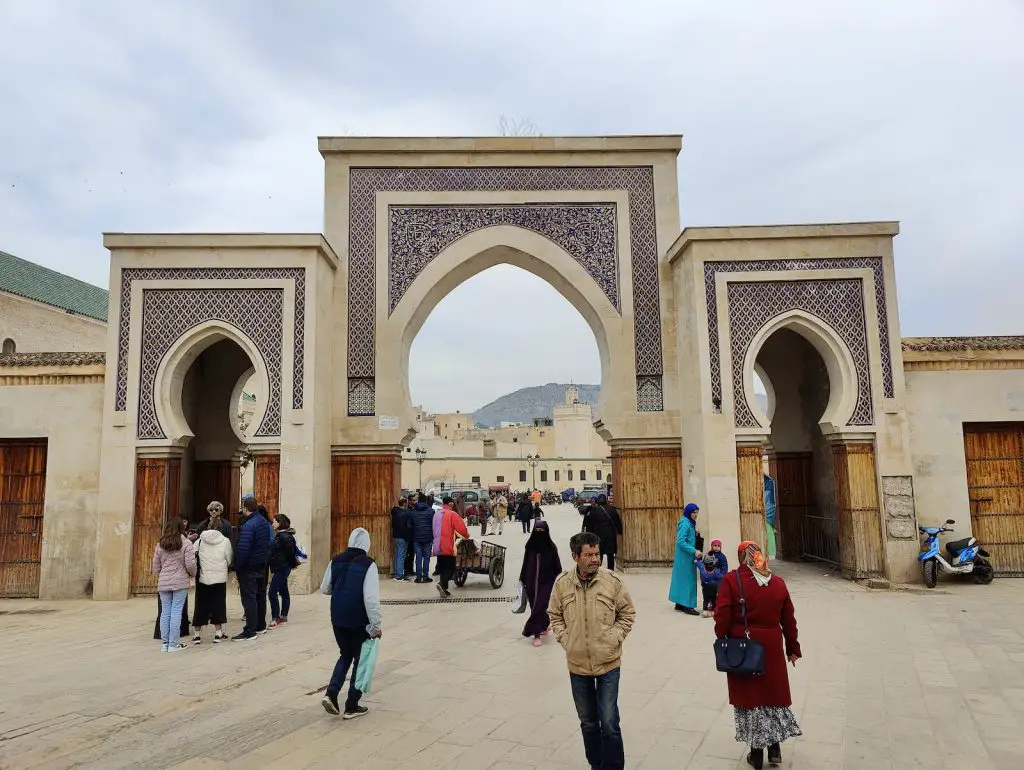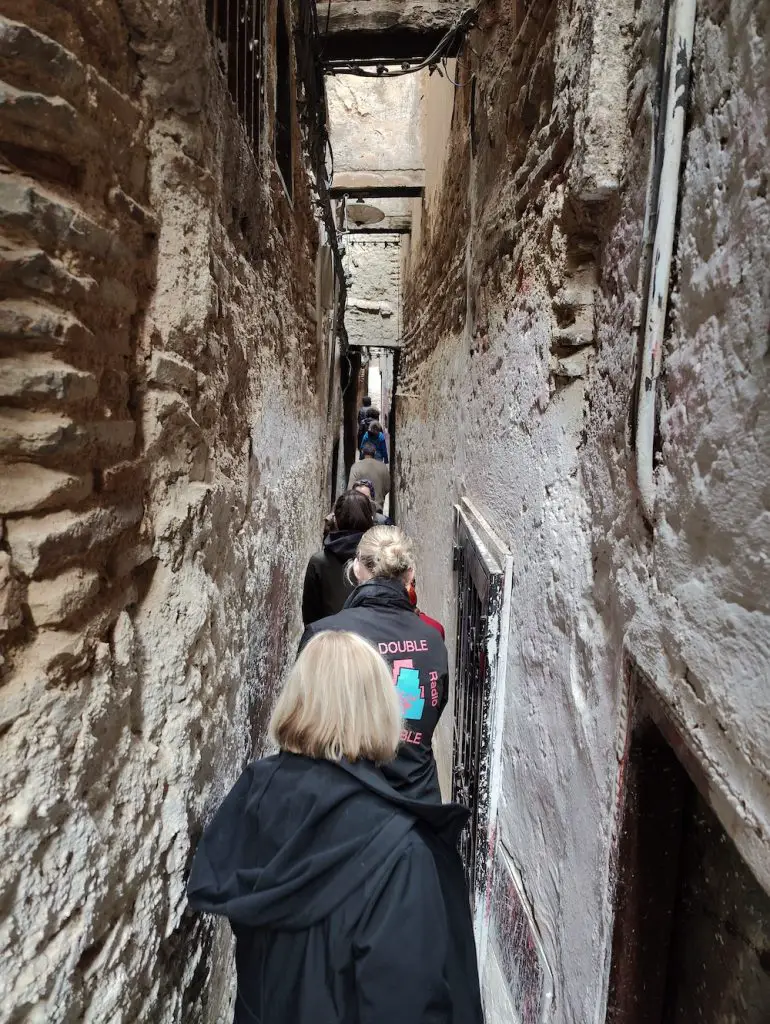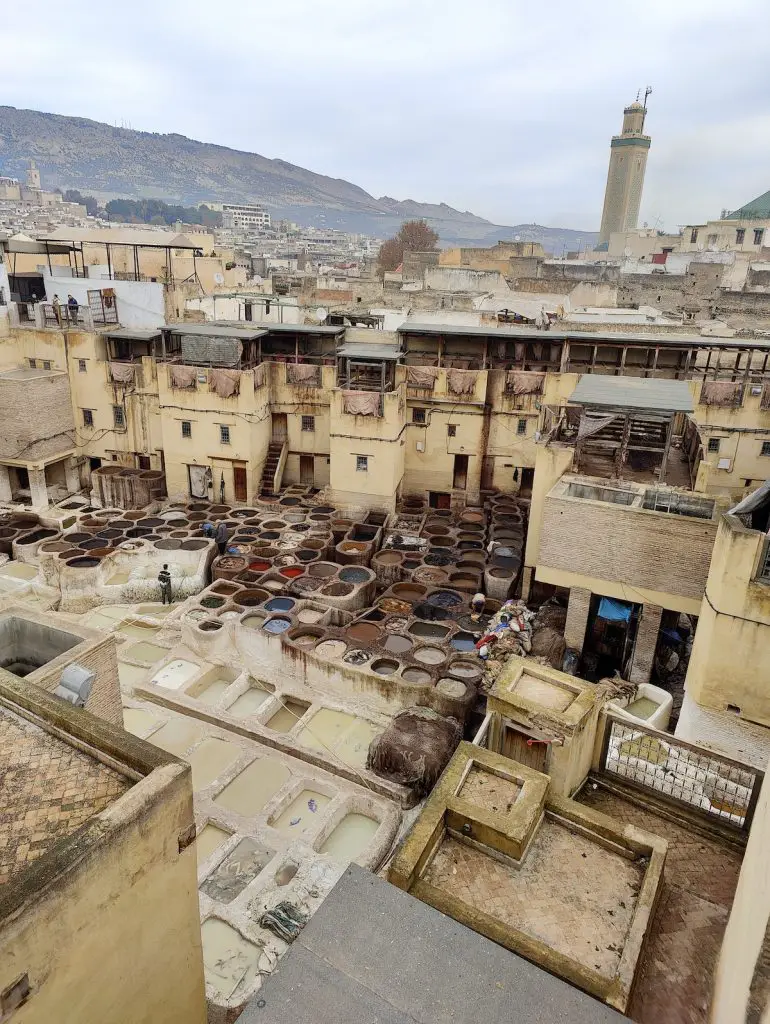 We had a New Year function at the hotel as part of our stay. Pre dinner drinks downstairs with a classical guitar band comprising three instruments and a drummer and some street style performers doing juggling, mime and acrobatics. Dinner was a help yourself feast where I enjoyed beef, lamb and pork with mashed potato, beans and zucchini.
We sat next to an American couple and had a nice time talking with them.
9573 steps