Late 2021 a colleague shared info with me about a camp ground at Noosa North Shore. I managed to book three nights in the second week of January. The story was that it had recently had an upgrade of facilities.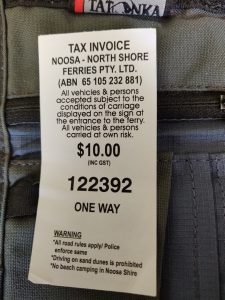 To get there from Brisbane is around a two hour trip, crossing the Noosa river on the barge.
It is not your typical caravan park though will see a collection of vans, trailers, campervans and tents. There are very few powered sites and two of the zones (Banksia, Malaleuka) offer tree lined sites that are quite large. You feel a better sense of privacy than in caravan parks like Cotton Tree and Coolum where each site connects to the next. The newer Kangaroo section is devoid of trees. My recommendation is to ask for a site in the other two areas if they are available to you.
The Coolola Great Walk is the neighbourhood and the section of beach in front of the camp ground is a nice place to walk, with no fear of vehicle traffic. Swimming is not recommend as the beach is not patrolled.
The camp kitchen offers refrigeration, lots of tables, cooking facilities and wash up.
It also features lots of wild life including bush turkeys, at least one large Lace Monitor and we saw three very relaxed kangaroos one evening.
The main attraction for this park is probably the beaches to the north – a four wheel drive haven.
Below are some pictures of the park. Note for his trip I was expecting a combination of heat and rain so decided to pack a tarp to protect from both. The upside of this arrangement is that your are much cooler with better sun protection.
The downside for my set up is the space associated with the poles – had to carry them on the floor of the camper which is not sustainable without some additional external storage – perhaps a PVC tube carrier mounted on the inside of the awning.