Having ordered a base model vehicle in haste I was advised that there were some important features that should be included in your VW Transporter build from the factory.
The advice was to include:
Comfort package – which included rotating front seats (I could not find this in the brochure, however) and arm rests.
Locking rear differential (I wanted a 4WD)
Rearview camera.
Things not to include were rear air conditioning – this was better done later as part of the conversion. My conversion shop also advised against getting the D pillar additional ventilation as the fan impacted the location of some of the fit out.
I was also advised that I would regret buying a short wheel based (SWB) vehicle and that the 40cm difference inside was significant.  I understood that a longer interior would provide significant advantages but part of the plan was for me to only have one vehicle. I felt a SWB was a better daily driver for me.
I cancelled the order for the VWt6.1 base model and placed an order with the following extras that would have an impact on the camper set up:
Arm rests ( a stand alone option on the 6.1 model)
Swivel seats for front.
Sliding windows in the middle position (between B and C pillar). Could not specify windows for the rear position (C to D pillar)
Stronger alternator – on advice to support charging of the extra battery. Am hoping that I will not need to get solar installed. I don't expect to be doing off grid camping for long periods.
The suggested delivery time was three months so with a bit of luck the vehicle was going to arrive November 2020. and be dropped off at Wanderlust Campers on the Sunshine Coast.
Well COVID-19 intervened and had an impact on VW production.  Later was advised that that June 2021 was the new target date.
I ended up collecting the van on Thursday 6 May 2021.
The first weekend following I visited Complete Car Sound at Enogerra to get a quote for sound proofing of the drivers cabin and that afternoon visited Wanderlust campers workshop at Coolum after a very nice lunch at the Coolum Surf Club.
After choosing colours for surfaces and fabrics we discussed sound proofing of the van. It was clear that the roof of the van would be well insulated as it comprises a fibreglass foam sandwich like a surf board.
Pictured below a photo of two T6.1s (a short and long wheel base) being converted in the Wanderlust workshop.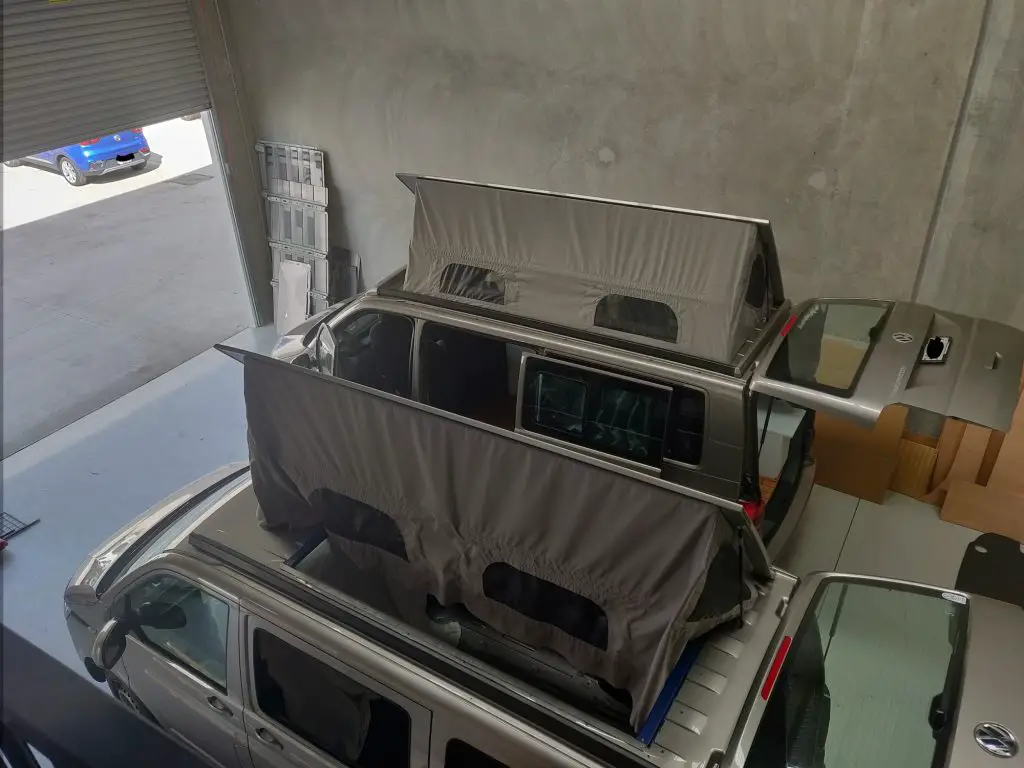 See the soundproofing story.