After a few trips where the caravan park was quite a distance from the town centre we realised that taking a bike along might be a good idea. Initially I contemplated a second hand hybrid style bike but a few conversations with people of a similar age convinced us we should look at an electric bike.
There were two problems to solve.
Firstly how would the bikes be carried and secondly which bike.
Discounting carrying  bikes inside the Transporter leaves you with two options – either a door mounted or tow bar rack.
Option 1 – door mounted bike rack
There are a number of door mounted racks including a VW original which is expensive and other copies. The VW version is worth considering as they can be upgraded with the Hess rail set which enables other items to be mounted on the bike rack including spare wheel, jerry can, storage and other bits and pieces see image at page for carrying a second spare wheel.
There are also models made by Thule.
If you are going to add a rear door rack it is also recommended that you add higher specification gas struts.
Option 2 – tow ball or tow hitch mounted bike rack
The nature of the tailgate (as opposed to barn style) door on the Transporter means you need a rack that folds down so you can open the door with bike on the back. There are a number of tow ball mounted racks by brands such as Fiamma, Thule with the Atera make highly regarded.
To prepare for my bike rack I arranged to have a towbar installed at the VW dealer. It was a much bigger job that expected as they had to move a lot of the camper infrastructure to access the electrical system required to support the towbar.  In fact a whole day was insufficient and they ended up keeping the vehicle over a weekend to finish the job on the Monday.
I was expecting them to install a Westfalia style towbar but instead they installed a VW branded 2 inch hitch style towbar installed which gave me more options for the bike rack.
The best available appears to be a Rockymounts Backstage which allows the bikes to be moved completely away from behind the vehicle per image below.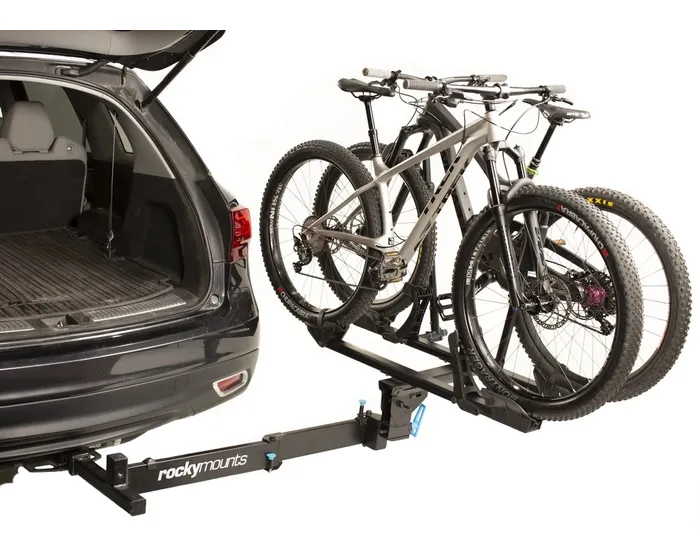 Achtung Kamper recommend the Yakima Full Swing – which has a 4 bike weight rating of 62 Kg but the maximum for a single bike of 18 Kg.
What about the bikes?
Confusion reigned when I started to look at e-bikes. There are literally hundreds to choose from.
There are considerations like branded vs unbranded batteries – apparently branded are better such as Samsung, Panasonic.
Apparently Bafang hub motors are better than unbranded.
A bit more research and it is clear that the best value bikes have hub motors but apparently a better experience is had with a mid drive.
Weight is a significant consideration particularly with a tow ball mounted rack. Electric bikes can be heavy so you need to make sure you don't overload the rack.
When looking for light weight bikes under 20kg I came across a few locally including:
LeitnerUltimate Step-Thru Cruiser – 17 kg
Trek Dual Sport+ 2 Stagger – 18 kg
Trek FX+2 –  18 Kg – 18kg
Orbea Optima E50 – 17 kg
Cannondale Treadwell Neo EQ  – 17 kg
As the Rockymounts Backstage can handle 2 bikes at up to 27kg each elected to go for a mid drive bike.  As we were shopping around June/July there were quite a few on sale and ended up getting some Giant bikes at great discount.
Giant Roam E+ and Momentum Transcend E+ Mid Step. Unfortunately they do not use the same chargers so that means having to take two on the road but the deal was too good .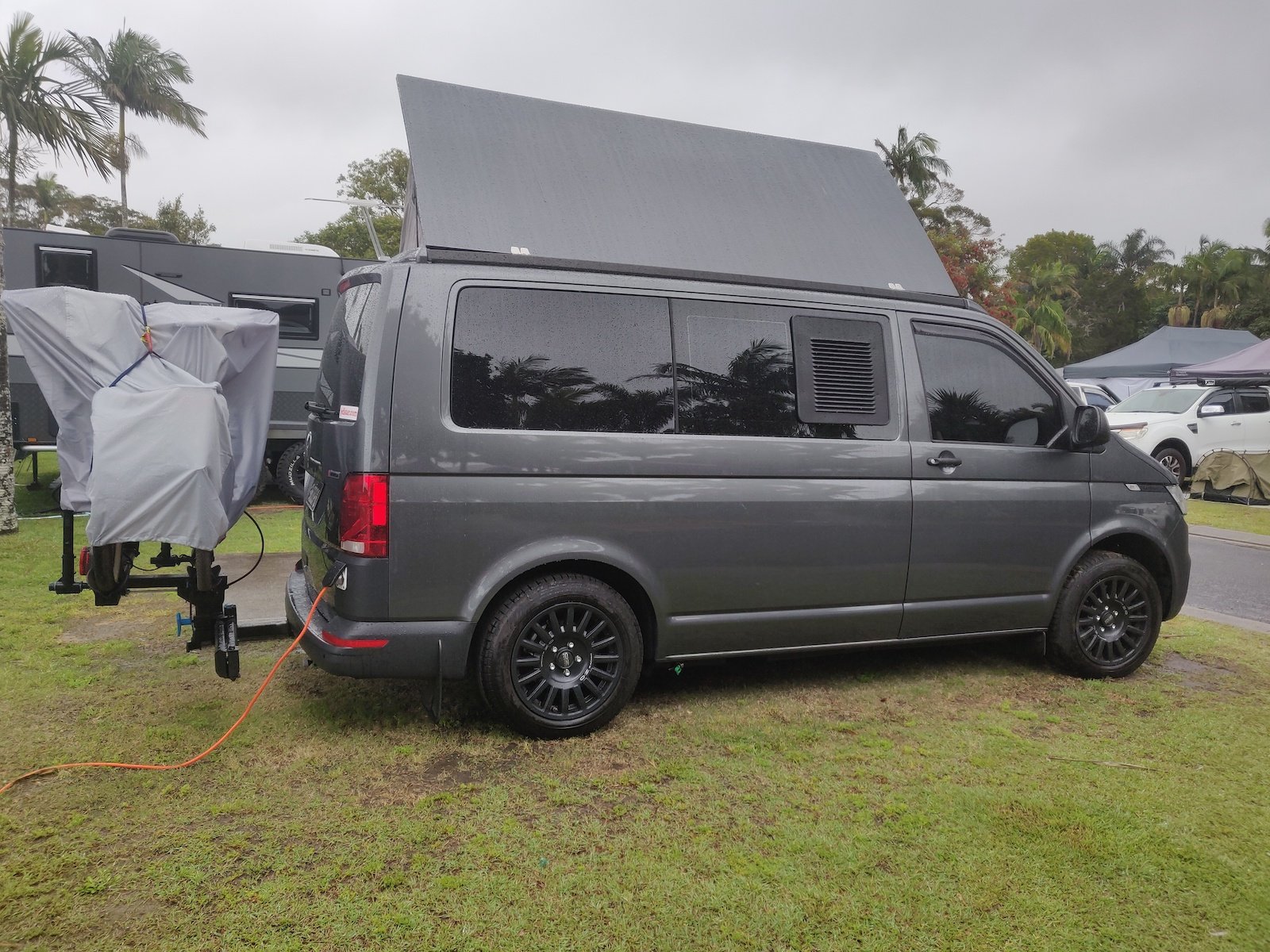 Other racks to consider