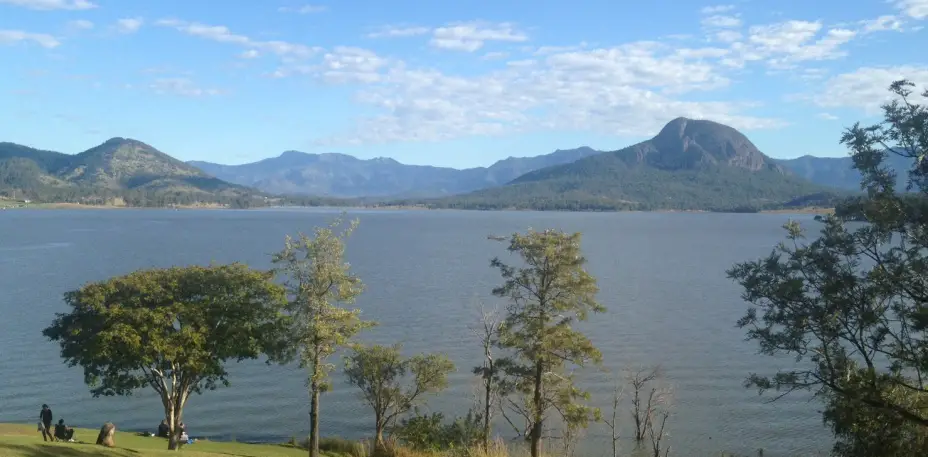 We did not follow the GPS all the way – and rather turned off left from Cunningham highway at the first signpost we came across on The Cunnigham Highway that pointed to Lake Moogerah. Note we could not find Lake Moogerah in GPS so chose Moogerah instead. The signage is not that great to get you to the caravan park. A couple of parties on our trip took the turn right to the dam wall itself. They then had to backtrack to the road, turn right, and then proceed to the caravan park turn off.
The caretaker cabin is just in front of a boom gate which requires a personal pin.
The caretaker sells ice, bread, ice creams, soft drinks, sunscreen, and a few basics. There is also Motorboat and kayak hire.
The nearest proper town is boing where we went for coffee on the second morning. Which was a Saturday. What a lovely little town. I enjoyed a fresh cream bun at the local bakery which was excellent. A coffee from across the road was also very good.
The caravan park sits on the edge of the dam. The views from everywhere are beautiful. This really is a surprise.
Some of the vistas are as good as you see on the overland track in Tasmania.
On Saturday afternoon we went for a drive for the dam wall. Across the dam wall, you can enter the mount peters national park. From the other side of the dam wall, it is a 3 k walk to the lookout.
At the dam wall there are public toilets and barbecue faculties.
The caravan also has shared use of BBQ, microwave, kettle, and toaster.
Boonah also features a camping store that sticks excellent quality gear with brands like Lonely Planet, keen shoes, they can pretty well set u up with everything you need for hiking or car camping. Below a photograph of the 6 tents in our group with a central mess area.