I prepared for this walk a few weeks before by taking a drive from Brisbane to Pomona then to Boreen Point, Elanda Point National Park parking area and Elanda Point Canoe Company.  I planned to park the car at either of these points then walk to either Harry's or Fig Tree Point for a single night.  I planned to take my daughter and was a little anxious about the weight we would both have to carry for our first through walk together.
In the end I decided against parking at the National Park car park and checked in to Elanda Point Canoe Company. I booked my car in for the night and booked a camp site for the second night.  The plan was to walk in overnight, walk back then spend another night at Elanda Point. The staff at the Canoe Company were very friendly and helpful.  We parked the car where recommended and set off for the walk from the camping ground which saves you about 400 metres over the National Park car area.
The walk is relatively flat mostly through trees.   There is a bridge crossing over Kin Kin Creek which make the walk a big do leg. The path is wide until the bridge- then it becomes a little more closed in and wild.  It does not look like it has lots of traffic – there were lots of palm fronds on the ground in sections.  No barrier to the journey though. Occasionally you catch glimpses of the creek along the way.  Lots of mosquitoes in the bush.
After 10 km we were had it.  I had packed too much and we were both back weary and sore.  Fig Tree Point is a nice enough area of the lake with basic toilet facilities.  You need to consider boiling or treating water from the rain water tank there. Net morning ay 9.30 as promised Brian and his brother pulled up to the jetty. We stopped at Kinaba Information Centre on the way back to Elanda Point.  I'm going to use this camp site as the basis for a future adventure.  A safe car means a lot and there is the opportunity to mix up the walking with a canoe ride.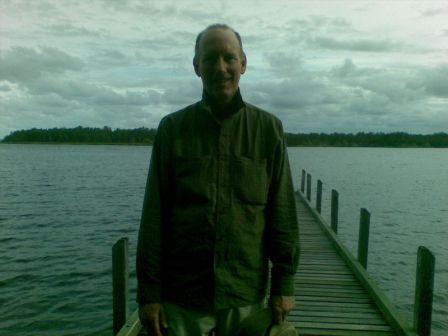 Author at Fig Tree Point, Lake Cootharaba