I traveled to Scotland in June 2012 as part of a study tour.  I arrived in Edinburgh late in the day from Boston, USA via Dublin so I was feeling pretty jaded and wanted to do something a little energetic to keep me awake before I tried to get back into sync with a local bed time. Before I had left Australia I had seen on Fodors that Arthur's Seat was highly recommended so I intended to do the short walk while in Edinburgh.  From my hotel near the Scottish parliament I could see a raised feature and incorrectly assumed it was Arthur's Seat [picture left]. This first feature, however, is called the Crags and is in fact not a natural landmark but the remnant of a stone quarry.   Arthur's Seat is a slightly taller feature seaward (east) [picture right].
At around 4.00 pm there was still plenty of daylight left so I wandered in the right direction and asked for directions as I went.  It is a pleasant walk.  At the time of year I traveled the wind was quite strong in exposed sections.  This is not a walk for slippery soles but any pair of joggers or hiking shoes should be adequate. High cut boots are definitely not required.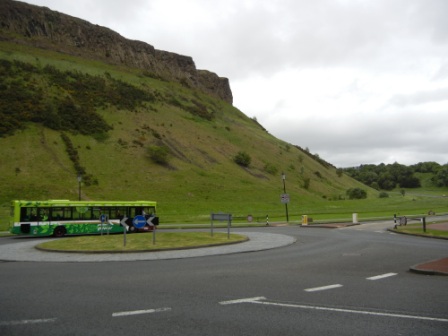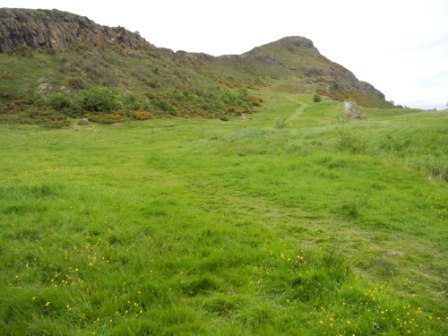 The walk is straightforward and a return trip can be done in around two hours.
See below some photos of the views from the hill – one looking inland and the other seawards.  You can also see Edinburgh castle from the top.
This is a must do and must see feature while visiting Edinburgh, Scotland.